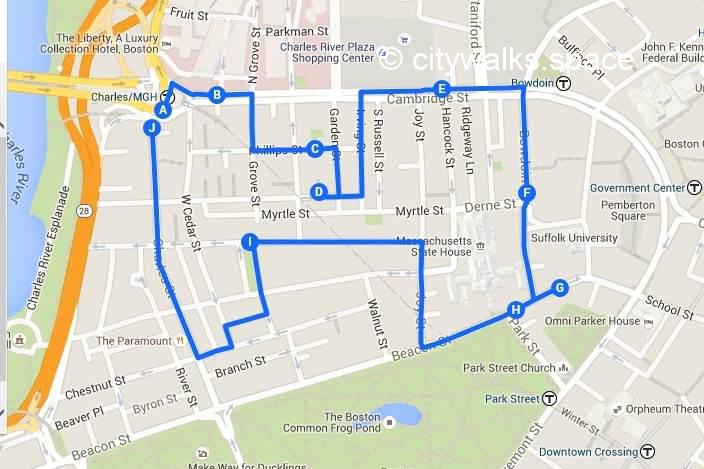 Walk in Boston # 10, charming Beacon Hill, is a two to three miles self-guided tour, half indoor, half outdoor, to explore one of the prettiest historic neighborhoods of Boston.
It will take you from 2 to 4 hours of walking depending of what you decide to do, up and down the hill through small tree-lined streets.
Highlights: the Museum of Medical History, the Vilna Shul, the Otis House Museum, The Boston Athenaeum, the Massachusetts State House, the Louisburg Square, Acorn Street, Charles Street.
T.Stop: Charles/MGH, red line (start and end).
Car: Never a good idea in Boston but if you insist, use a parking app to reserve a spot at Boston Common parking. Once out, take Charles St. to go to point J and you'll be a the start of this walk.
Good to know: you'll find places to sit and restrooms in all the buildings you'll visit. To sit outside, your best options are Ashburton Place or the Boston Common. To eat, it will mainly be along Cambridge Street and Charles Street.
---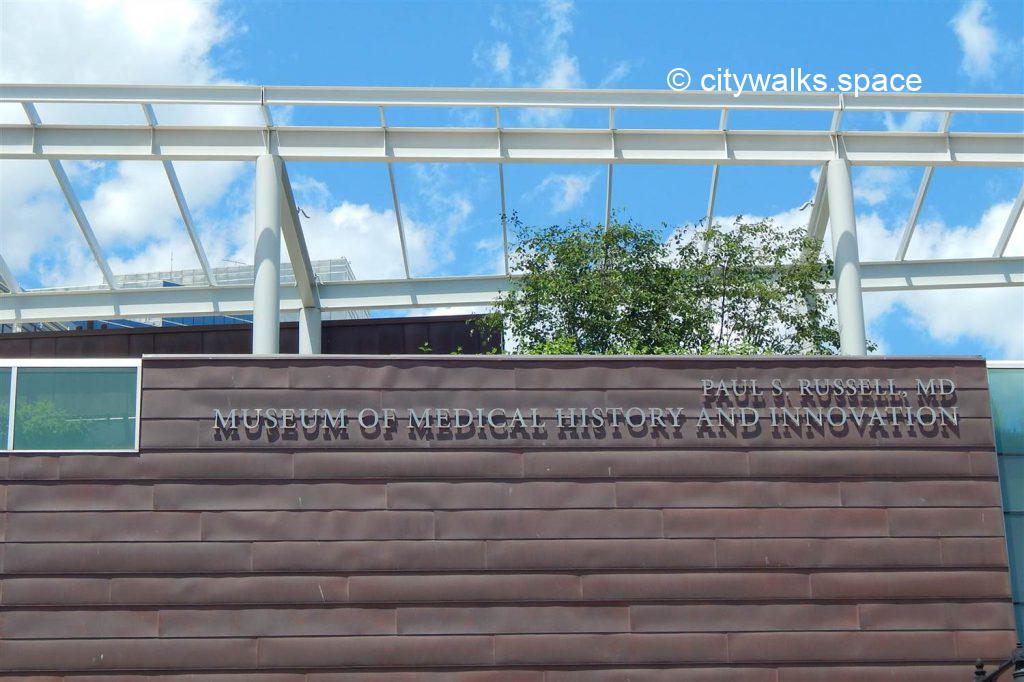 A: Your walk starts at the Charles/MGH station. Take Cambridge Street toward downtown to reach your first stop, the Museum of Medical History and Innovation.
B: This museum is part of Massachusets General Hospital, the largest and oldest hospital in the city, and you'll find there a map of all you can see in the hospital without having to be a patient!
The museum itself tells you both the history of medicine and offers a glimpse at its most recent discoveries though interactive media displays and temporary exhibitions.
On the second floor, you'll be able to learn how it expanded, the problems it had to face, and how its innovations paved the way for other hospitals around the country.
On the 3rd floor, you'll find a rooftop garden with views to Beacon Hill and beyond.
C: Your next stop will be the Vilna Shul, a former synagogue where you'll know everything about the Jewish immigration from 1880 to 1924.
The Classical Baroque building needs a lot of repairs, but it's an interesting structure, and both the panels and the guide you'll find there will give you a lot of information about what it meant to be an immigrant at that time.
To go there from the Museum of Medical History, take Cambridge Street again, cross it to climb Grove Street then turn left on Phillips Street.
The Shul is at #18, and you'll have to ring a bell to have someone come and open the door for you. It's open Wed, Thu, Fri from 11am to 5pm, and Sun from1pm to 5pm, but check before to be sure.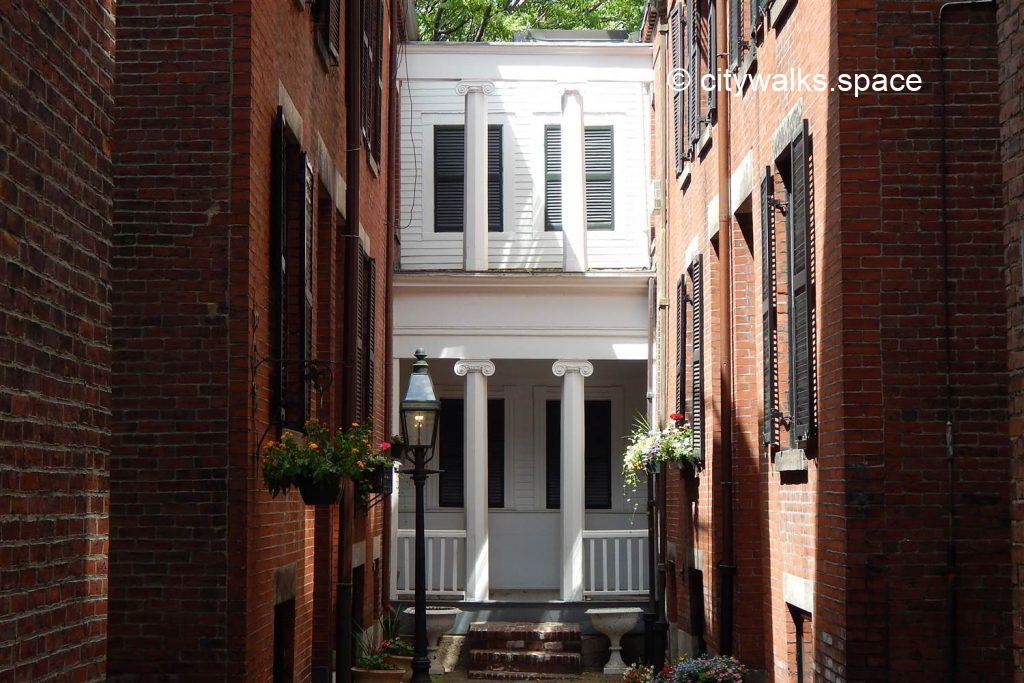 D: Once your visit is over, exit on the right, take two more rights and find the Scarlett O'Hara house at the end of an alley called Rollins Pl.
It's a mural, but an excellent optical illusion. You'll have to look at it from a distance, though, as it's a private alley; yet you'll have a taste of the South right in downtown Boston.
E: Next, retrace your steps on Revere Street until you reach Irving Street, and take it on your left until Cambridge Street. Cross Cambridge Street to go to # 141, a bit on your right, to see the Otis House, a real house this time.
You'll learn there how the elite were living in the 18th century. The house was built by Charles Bulfinch in his distinctive Federal style, and sits next to the Old West Church. It's normally open on Fridays, Saturdays and Sundays afternoon.
F: Once back on Cambridge Street, keep going east toward downtown until you reach Bowdoin Street. Take it on your right and you'll see Ashburton Plaza on your left.
It's not a mandatory stop, just a pleasant plaza with fountains, public art and places to sit in front of some Suffolk University buildings. A quiet place at the edge of Beacon Hill.
G: If you keep following Bowdoin Street, you'll then reach Beacon Street. Turn left when you get there, and look for the Boston Athenaeum on your right.
A private library founded more than 200 years ago, its 1st floor and a gallery are open to the public 7 days/week. The rest, 12 stories with thousands of rare volumes, is reserved to its members. It's also a landmark library, and an inspiration for libraries and museum all over the country.
Go there, and you'll step in a very special place with studious atmosphere, masterpiece paintings, and unique views of the Old Granary Burying Ground.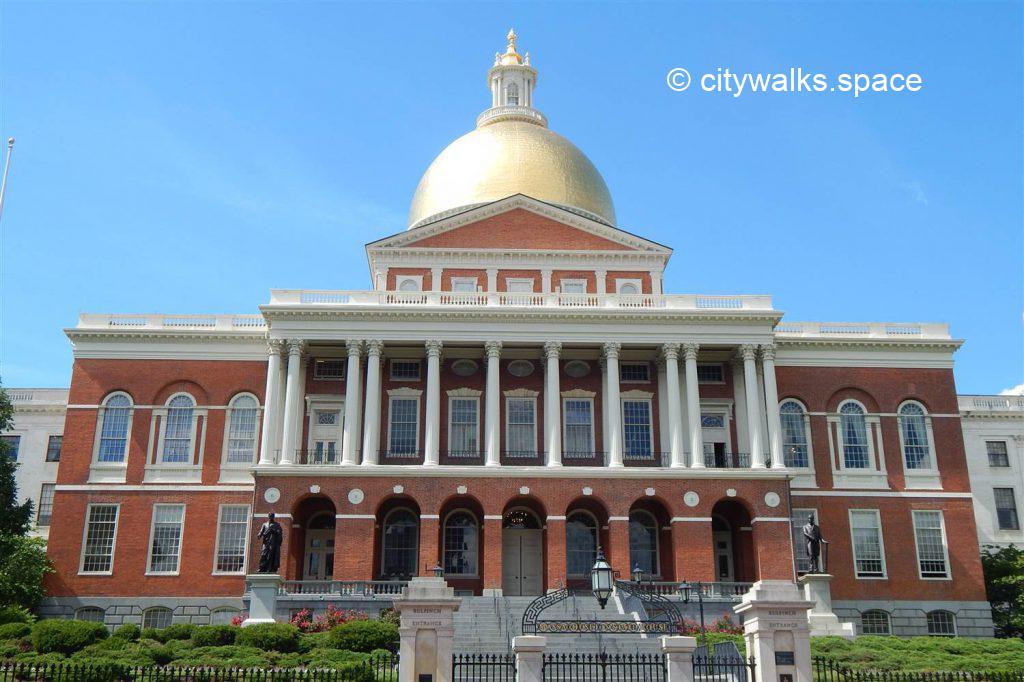 H: Next on your list, the Massachusetts State House, designed again by Charles Bulfinch, and another fine example of Federal architecture. Completed in 1789, it has had regular additions since.
To find it if you do not see its golden dome to guide you, step out of the Athenaeum, go left and walk a few hundred yards. The visitors entrance will be on your right.
You can scheduled a guided visit in advance, but you can also wander at random in the building. It's a bit of a labyrinth with marble floors, murals, decorated ceilings, grand staircases, unexpected sculptures and all the strange offices and sights you can encounter when visiting the seat of a state government.
The library is well worth a look, as well as the Chambers of the Senate or the House of Representatives, if they are in session. You can access their upper floors and sit there if you are quiet. Have also a look at the Hall of Flags if you have time.
I: To reach your next stop, the pretty and private Louisburg Square, follow Beacon Street along the Boston Common until you reach Joy Street on your right. Take it, then take Pinckney Street on your left.
There are other ways to go to Louisburg Square, but the idea is to visit once again the Beacon Hill streets, and enjoy their charm.
The Square, closed to the public, is surrounded by Greek Revival houses. They are some of the most expensive townhouses in the USA, and you'll perhaps see fine art painters at work in their vicinity.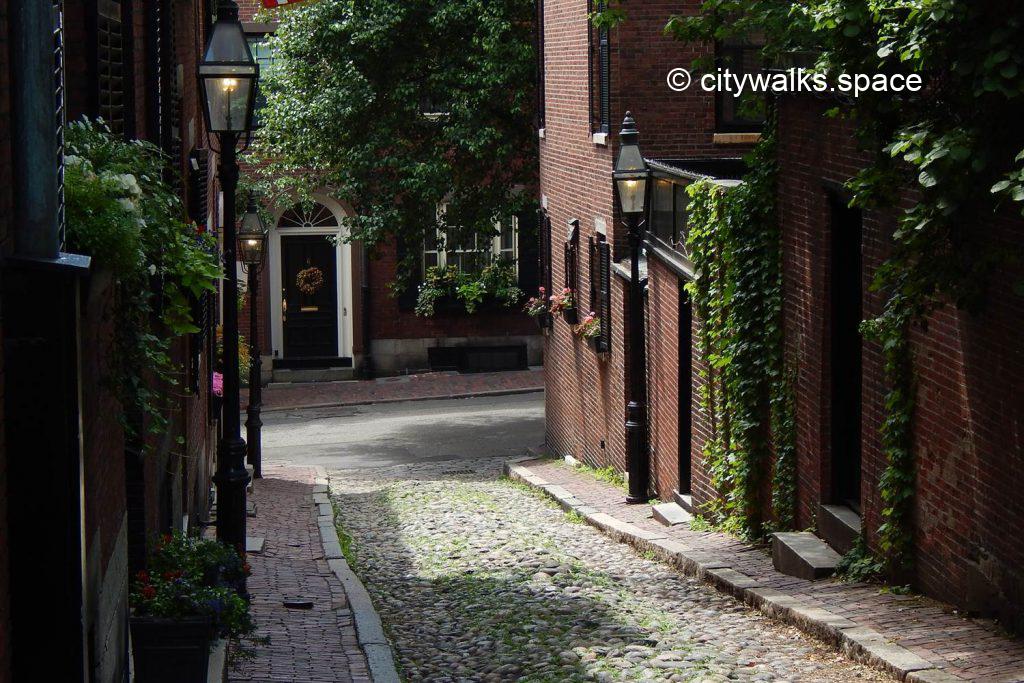 Next, you'll take Willow St. toward the Boston Common and look for surely the quaintest street in Boston, the small and cobblestoned Acorn Street.
If you don't take a picture, it must be that you do not have a camera, or do not like pictures.
In any case, take it until West Cedar Street, turn left and walk until Chestnut Street; take it on your right and you'll reach Charles Street, the last leg of your journey.
J: Charles Street is known for its boutiques and antiques shops, so it's time to explore them, except if you want to stop and have a drink in one of its café. In any case, you'll finish your Beacon Hill exploration in style!
Once at the Charles/MGH T.stop, you're at the end of this tour. If you want to walk more, you can now take Walk in Boston # 11, Beacon Hill and surrounding parks. It will allow you to enjoy the Charles river's banks.
To see photos of Beacon Hill in the early 19th century and beyond, Beacon Hill (Images of America) is the book to have.
Yet before you go, don't forget your guide and see how to thank him at the bottom of the page. Then enjoy the rest of your day!