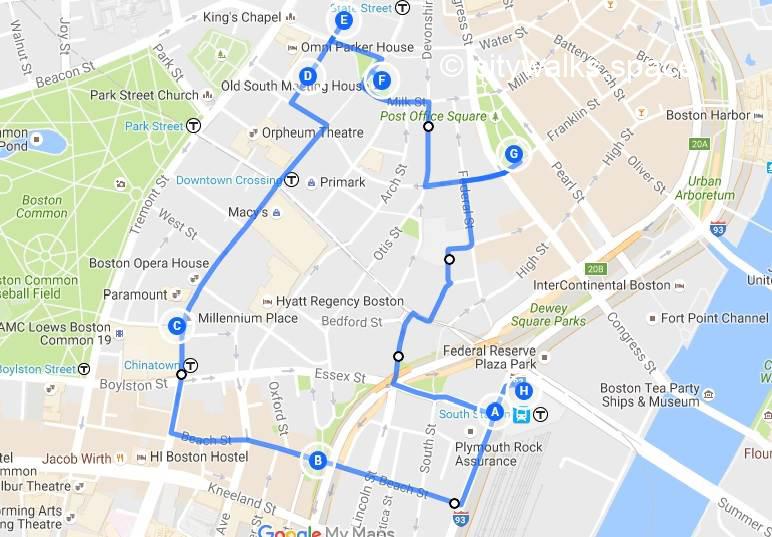 Walk in Boston # 9, the Chinatown, Downtown and Financial Districts, is a 2 miles self-guided tour to visit three different parts of Boston.
It will take you about 2 hours to complete, many more hours if you visit the stores on the way.
There will be authentic Asian restaurants in Chinatown, deals to get on busy Washington Street, and skyscraper to admire in the Financial District.
Highlights: Leather district, Chinatown, Downtown Crossing, the Old City Hall, the Old South Meeting House, the Post Office square, the Irish Famine Memorial, the China Trade Center.
T-stop: South Station, red or silver lines (start and end).
Car: never a good idea in Boston, especially in this part of town where parking spaces are expensive, except during the week-end. Try to use an app to reserve a spot along the way.
Good to know: there are restrooms in South Station; in the department stores; at the entrance of the parking under the Post Office Plaza (take the escalator that goes down). Food options are plentiful along your way; you'll find benches in the different parks of this trek.
---
---
A: Your walk starts at South Station, and the station is described in details in Walk in Boston # 8 if you want to explore it now.
Otherwise, once out, turn left on Atlantic Ave: you'll enter the Leather District with its 19th century brick warehouses. It now houses various shops and appartements.
At Beach St., you'll start to guess you're not far from Chinatown.
B: On the right of its entrance gate, you'll see a small park with bamboos and fountains. On the left and a bit further, on Hudson St., you'll see retired men often play cards in a public square.
It's like you were suddenly in Asia!
You now have the choice to stay on Beach St. or to take the adjacent streets until you reach Washington St.
In any case, you'll see many restaurants, bakeries, jewelers, gift shops; on Knapp St., there is a supermarket with Asian products you cannot easily find anywhere else.
C: Once on Washington St., the China Trade Center will be on your left, at 2 Boylston St.
You'll be able to read, once in the basement and in front of the Chinese Historical Society of New England, everything you want to know about the different waves of Chinese immigration.
D: Next, keep going toward Bosworth St, a small alley ending with a staircase. It will perhaps remind you of Europe.
Many interesting façades on your way, most of them renovated a few years ago when Downtown Crossing experienced a much needed uplifting.
In order of apparition, the art deco Paramount Theater; next to it, the historical Boston Opera House; further north, just after Macy's, the façade and clock of Filene's, a now defunct department store.
Macy's and Filene's were for years the anchors of the area; huge crowds were going there to look for the latest fashion. Filene's closed a few years ago and now The Millenium, a tower with luxury apartments and on its first floors, a new fast fashion department store, stand were it was. Macys is still there but its future is uncertain.
Not far, two other department stores await your patronage, as well as smaller clothes and shoes stores. That makes Washington St. a shopping magnet for brand names clothes and accessories at often reduced prices.
E: After all this shopping, Bromfield St. then Province St. will offer you a respite: only small shops there, dealing with antiques coins or shoe repairs, like nothing had changed since they opened.
At School St, you'll nearly be in front of the Old City Hall, an historical building now hosting an upmarket steakhouse; there's a donkey sculpture on one side and an old cemetery on the other, with signs explaining what they are.
F: Next, take School St. on your right to reach a small plaza; the Irish Famine Memorial is at its center; in front of it, the Old South Meeting House, the original site of the Boston Tea Party.
There is often a fruit and vegetable stand next to it, as well as an used books stand. These stands are both on Milk St., and you'll have to stay on this street to reach Devonshire St. where you will turn right.
G: You will then be in the Financial District with its many skyscrapers.
At the Post Office square that you'll reach by turning left on Franklin St., you'll be able to see them from a distance; you can even sat on benches amid trees or at a small café outdoor terrace.
H: After this detour, retrace your steps on Franklin St. and take Federal St. on your left. If you go straight, you'll reach South Station. You can also veer right then left then right then left again and finally reach Essex St from where you'll be able to see South Station. It's a detour to explore the area more in depth.
NB: many buildings in this area have 1st floor indoor cafes and little boutiques. It should give you an excuse to enter then during the week (most are closed on week-ends) and admire their architecture, fountains, terrace, chandelier and artworks.
At South Station, you'll be at the end of this walk but if you want more, it's also the start of Walk in Boston # 8, the trendy Fortpoint Seaport District. You'll cross the Fort point channel, see the skyscrapers from a distance, and discover more secret and not so secret places in the city.
If you'd rather look at pictures of the city instead of exploring it by foot, there are some here on Citywalks.space, with pictures of New York too.
Before you go, don't forget your guide and see how to thank him at the bottom of the page. Then enjoy the rest of your day!
---