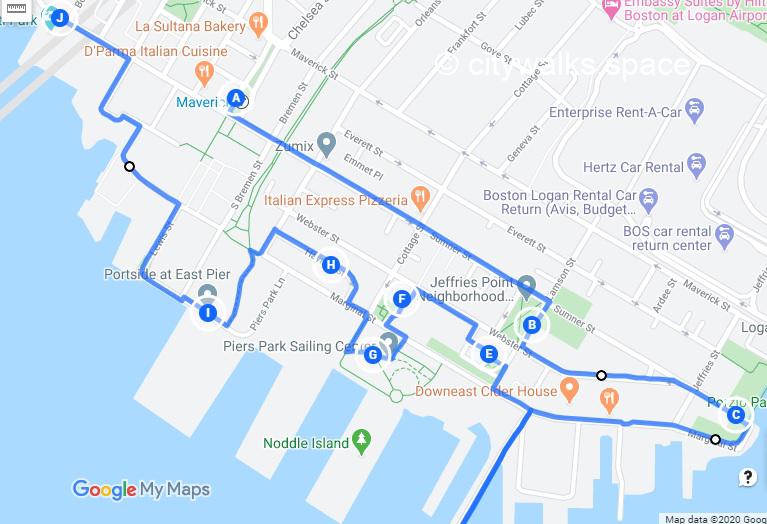 Walk in Boston # 3, the old and new East Boston, is a 3 miles self-guided tour in a quickly changing neighborhood.
You'll have some of the best views of Downtown Boston from the other side of the harbor, especially at night. You'll discover a lightship, a working shipyard, rows of triple decker, a church with an impressive organ, and plenty of public art. Finally, you'll visit a new residential neighborhood with cool places to sit along the waterfront.
It will also be a chance to taste what has been described as "the best New York style pizza in town", to sample some Colombian flan, some Australian pies, and some local cider.
Highlights: Maverick Square, Jeffries Point, Our Lady of Assumption, Belmont Square, ICA Watershed, Marginal Street, The Nantucket, East Boston Pier Park, Portside, Carlton's Wharf.
T.stop: Maverick, blue line (start and end).
Car: Never a good idea in Boston but you could find free parking spaces at East Boston Piers Park (point G) or along Marginal St. Then choose which direction you want to go as this walk is a loop!
Good to know: You'll find restrooms, benches and tables at East Boston Pier Park; benches in all the other parks and the new section of East Boston/waterfront. There are also restrooms and places to sit at the ICA Watershed when it's open.
---
---
A: Your trek starts at Maverick Square, and if you are hungry or just want to indulge in some Colombian pastries before hitting the road, find La Sultana bakery on your left when you go toward the airport.
If you want something more consistent, the best traditional New York style pizza in town, according to Boston magazine, is about 10 minutes further, at Santarpio's on Chelsea Avenue. It's a cash only kind of place, so be prepared!
All these detours have not advanced your trek a lot as you must take Sumner street toward Jeffries Point! But if you went to the pizzeria, you already have a good idea of this part of Boston: rows of triple deckers and still many immigrants, even though their origins have switched from Russia and Italy to South America.
Before you go, be aware that East Boston has traditionally been, and still is, a working class neighborhood, but it's getting gentrified quickly, especially on the waterfront. Jeffries Point, where you now go, was the richest part of the neighborhood with his rows of now historical houses.
B: Your first stop on Sumner St. will be Our Lady of Assumption Church. It's open to everyone (normally), and it has an impressive organ in the back of the nave. It attests of the importance of the catholic community at the beginning of the 20th century.
On your way, you'll see gardens below the houses and surely wonder how much time will pass before the neighborough and its discreet charm will be discovered by developers.
In the meantime, Belmont Square, on your right after the church, is still a peaceful area and you'll perhaps wish you had a book in order to sit there and relax.
C: You could stay on Sumner St. to reach the end of this little peninsula, but take Webster St. instead. Its houses are more opulent and will give you a more complete idea of the area.
Nothing spectacular at the end, a park and some tennis courts, but you'll see Massport (the airport) in front of you, on the other side of the inner harbor, and terminal B. There seems to be a fireboat always docked there, red and shiny, somewhat incongruous if you are not used to harbors, but really useful in case of fire on other boats and along the shoreline.
You'll also see another unusual boat a bit further, but for the time being, follow the shore on the right, along Marginal St., and stop at the panels in the little park you'll soon encounter. They'll tell you that Boston was the 2nd busiest port of entry to the USA after New York; some of the buildings in front of you were part of the immigration station.
The other buildings are a working shipyard. You can enter it, but you are required to keep clear of the working areas. It's however your chance to see how boats are built or maintained; you'll also find here what must be the only Australian restaurant in town. Not a full scale restaurant though, as they only sell pies, but good pies and a welcoming deck.
A bit further and at the end of the week starting on Thursdays, you'll have a chance to taste some local cider in a old dockyard.
You'll also see that a shipyard can host a lot of public art, especially sculptures. Since 2018, it also hosts the ICA Watershed, open in Summer and free.
Then take the first dock on your left to see boats-houses. Some are big yachts, some are sailing boats so small you wonder how one can spend a life in them; some are floating structures of undefined forms and nature. In winter, they are all wrapped in clear plastic sheets to keep the heat inside and allow for the light to come, with a door included in the structure.
D: Now, at the end of the pier, you'll see (and even be able to visit it if you plan in advance as it's open only on Saturdays in season or on demand), "The Nantucket", an historic floating lighthouse, and the largest U.S. lightship ever built .
The story says that whatever the weather, it had to stay where it was stationed, about 40 miles southeast of Nantucket Island, to mark the Nantucket Shoals where no permanent lighthouse could be built.
On your way back, you'll notice that many boats owners have a bike, much easier to store on deck than a car when it's time to go!
E: Once on Marginal St. again, take the little staircase on your right to go to Golden Stairs Park. The staircase and the park will surely make you think you are in Europe. The people living in the multi-family houses you'll see there, with ironwork balconies and a perfect Boston skyscrapers view, sometimes hang their laundry outside. It only reinforces the sense of being abroad.
F: Keep going up the little alley to get back to Webster St., and turn left. You'll again pass Belmont Square, but this time keep going until you find Pearl Pl., another little alley in between gardens, bordered by gaslights. Take it to go back to the waterfront.
You are now again on Marginal St., and it's true that you did not need to do this detour, but didn't it add a plus to your meandering?
G: East Boston Pier Park is in front of you. Go to the end of it for the best views of Boston you can have without taking a boat. At night, it's even better. If you are walking with kids, they surely enjoy the playground there.
H: Once you have taken all there is to take at the park, go back to Marginal St., have a look at the community gardens of the area (they are a few) to see what's growing, and stay on Marginal St. until the next street on your right, Haynes St.
Here too, you'll perhaps see laundry drying up between houses, something that seems unique to East Boston. In any case, it's a little and pretty street that will get you to Orleans St.
Once there, you can shorten your walk if you turn right until your reach Sumner St. again; then left to go back to Maverick Square.
I: Now, if you want to explore the new East Boston waterfront, turn left on Orleans St. That's what the map tells you to do.
Then, find your way to E. Pier Dr. There are a few options so let your curiosity guide you. The goal is to wander in between all these new buildings as the places to relax along the water are varied, the views interesting and the atmosphere quiet.
J: Ultimately, it will be possible to go at least up to Carlton's Wharf but for now (February 2020), there's still some construction work going on and it blocks your way.
Find Sumner St. when you can and take it on your right, it will lead you to your starting point.
If you have not yet tried the food options described in A, now is your chance. If it's only a drink you crave, and a outdoor place to sit, Maverick Marketplace café at the corner of Maverick St. and Bremen St. seems a good place for a final touch of the neighborhood!
To see more photos of Boston, go to the page Boston and New York photos on Citywalks.space.
For historical images of East Boston, East Boston Through Time (America Through Time) is a good choice.
Before you go, don't forget your guide and see how to thank him at the bottom of the page. Then enjoy the rest of your day!
---