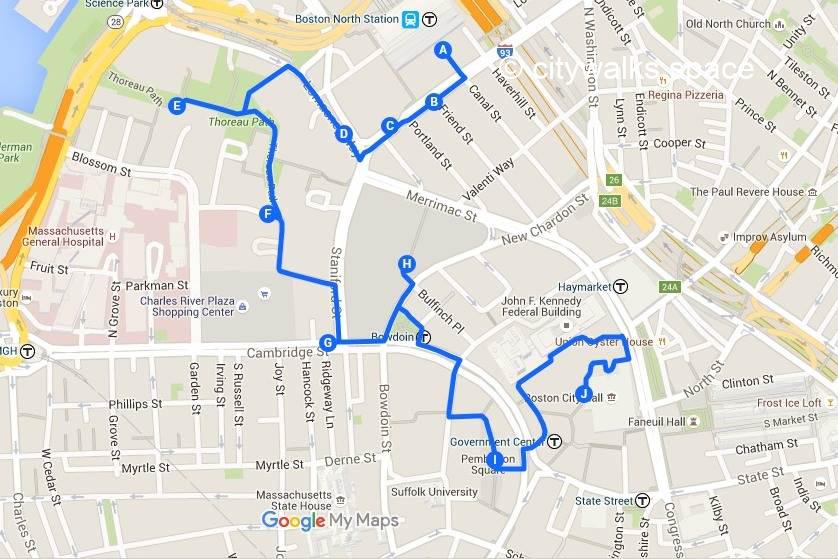 Walk in Boston # 1, the forgotten West End, is a self-guided 2.5 miles tour to see what urban renewal meant in the 1950's.
Architecture, art, history and hidden gems are on the menu, with discoveries both indoor and outdoor.
Highlights: North Station, the Bulfinch triangle, some federal buildings, the West End Museum, the Thoreau Path, the Last Tenement House, St Joseph Church, Old West Church, John Adams Courthouse, Edward Brooke Courthouse, Garden of Peace Memorial, Plaza Center, City Hall.
T-stops: North Station, green or orange lines (start) and Government Center, blue or green lines (end).
Car: never a good idea in Boston but if you insist, use a parking app to reserve a spot at North Station parking (point A on the map). From point J, it's a 15mn brisk walk to go back to your car by Merrimac St, then Saniford St. (or look at the map for alternate routes).
Good To Know: you'll find public restrooms at the John Adams courthouse and City Hall; places to eat near or in North Station, and around City Hall; tables and benches plus free Wi-Fi on City Hall plaza. You'll have to go through security to enter administrative buildings. A donation is suggested at the museum of the West End, otherwise everything is free.
---
---
A: Your walk starts at North Station (the railway, not the T ) because it's a railway station! It 's not New York Grand Central, and most trains come from the North and West suburbs, yet there is still this atmosphere of travels and wait. Many different people to look at if you like that; take a seat and be discreet!
Above you sits the TD Garden where the NHL's Bruins or NBA's Celtics are playing; big name performers too, when there is no games. If a game is scheduled, you'll know it as you'll see people coming in yellow (Bruins game), or green (Celtics game).
You'll also find shops, restaurants, a supermarket, a movie theater and Big Night Live, a venue/nightclub for concerts (see the page Other outings for details about it).
B: Once you step out of North Station, you face the Bulfinch triangle: it's an historical neighborhood featuring architecture by Charles Bulfinch, a 19th century Bostonian representative of the Federal style. The triangle is about all what's left of the original West End neighborhood.
If you came with the T. and went out directly on the streets there, you are already in this triangle.
Try to find some buildings Bulfinch made: simple line, ornaments over the windows, colons, balanced facades.
C: Then go to Causeway St. to find another era and another style when walking along the Thomas O'Neill Federal building (that's the route the map shows you).
Built mainly of pink granite in 1986, it replaces the Madison hotel where performers and sport teams used to stay. If you go inside, you'll see two sculptures, Jane Kaufman's "Crystal Hanging" and Mary Miss "Cascading Wall Fountain"
In front of it, at 150 Saniford St., you'll see the West End Place, another interesting building with a gigantic porch opening to an inside courtyard. Built in 2007, it's a private residence so you'll only have a look from outside.
D: Stay on Saniford St. to find the West End museum. You'll learn there how the neighborhood was until the 1950's, when the city of Boston decided to level the area, and built residential high rises.
The people telling you the story are old residents of the West End. Do the math, they won't be around forever to describe what happened, and how great the place was.
In front of the museum, you'll find " The Last Tenement House", flanked by enormous ads, and wonder how it survived the demolition.
The West End is again under construction until 2021 in this area with a new high-rise being built. Take the sidewalk in front of you, then the passageway on the left after the construction site.
E: At the end of it, turn left. You are now on the Thoreau path. It's not sure Thoreau would have agreed to have his name here, in the middle of 1960's apartment buildings, though. Like him if he was still around, you now have to decide if the new neighborhood was worth the destruction of the old!
F: A bit further, you'll see another survivor of the old West End, St Joseph Catholic Church. Open to everyone, with remarkable stained glass windows, it has the kind of peace only found in churches. For $1, you can lit a false candle, and present your request to one of the saints there. Will it work? You'll see.
G: Once on Staniford St., turn right to go and see the Old West church, at the corner of Cambridge St. It's a nice Federal style structure inside and outside, built in 1806. It played a role in the American Revolution and the expression "no taxation without representation" was coined there.
H: You have already seen it along your trek, but now it's a good time to have a closer look at it: the Charles Hurley, coming straight from a sci-fi movie, was built by Rudolph in 1971. It's on New Chardon St, unmistakable with its signature concrete, its Brutalist style, its curves and points. It also looks like a modern Baroque castle in need of a lot of repairs. Part of the Boston Government Center, it houses social services. In the movie "The Departed" , it was a police headquarter.
A big metallic sculpture hangs from one of its outdoor ceiling; you'll see it if you go to the plaza.
On the other side of this plaza, another imposing and fierce structure: the Edward Brooke Courthouse. Designed by KMW Architecture to be the flagship of the new courthouses built by the state, it was completed in 1999.
On your way out, do not miss the sculpture in front of the post office on New Chardon Street.
I: You are now heading toward the John Adams Courthouse by way of Bowdoin Square to admire two facades: one contemporary at a building called One Bowdoin Square, the other Art Deco at the old New England Telephone and Telegraph Company.
At Somerset St., turn right to see the Garden of Peace Memorial and its sculptures. Then you'll enter Pemberton Square.
It's a very unusual plaza with the impressive John Adams courthouse on the right, built in 1885 in a early stage of Classical Revival style, and the nonetheless impressive Plaza Center on the left, typical of the 1960's era building with its concrete structure.
If you can, enter the courthouse. It's home to the Massachusetts Supreme Judicial Court, and worth a look for its high rounded ceiling, marble stairs, and solemn paneled courthouses. You'll also find two permanent exhibitions, one about John Adams, and the other about the Sacco and Vanzetti case.
Then go through Plaza Center to reach City Hall Plaza.
J: On your left, the Kennedy Federal building, another example of 1960s Modern architecture. It was designed by Gropius and Glaser, with a Dmitri Hadzi sculpture in front of it, inspired by president Kennedy "Profiles in Courage" book. There are two more artworks inside, and revolving exhibitions about president Kennedy; yet it's still a Federal building, not a museum, so don't expect top-notch displays.
Your last stop, City Hall, is another example of Brutalist architecture. It has been called one of the country ugliest buildings, and one of the ten proudest achievement of American architecture. Take your pick according to your taste. The interior mirrors the exterior, and is home to three small galleries. They will give you an excuse to go and have a look inside if you want.
This will mark the end of your West End walk.
If you are still in the mood to walk, Walk in Boston # 2, the other North End, ends here so you could take it in reverse. Or you can take Walk in Boston # 14, the touristic waterfront, it starts here.
To see how the West End looked before the renovations, Boston's West End is a good book to have.
Before you go, don't forget your guide and see how to thank him at the bottom of the page. Then enjoy the rest of your day!
---