Walk in Boston, map and tours descriptions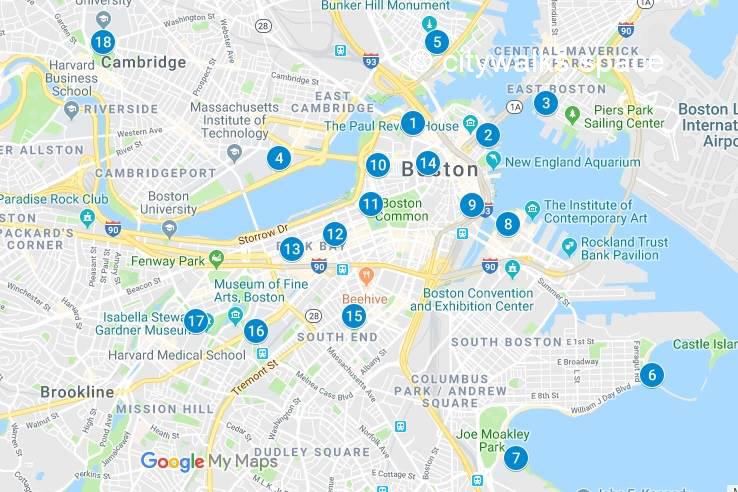 These 18 tours of Walk in Boston will take you 2 to 3 hours to complete without counting the stops and visits. They can be truncated, modified and for some of them, combined with others.
If you follow the links, you'll have their complete description with a map of the trail to follow; photos illustrating what you'll see; T. stations at the start and end of the walk; info about restrooms, places to sit and places to eat.
Walk # 1: the forgotten West End: a little less than 2 hours walk to see what urban renewal meant in the 1960's and how it transformed the neighborhood.
Walk # 2: the other North End: a 90 mn walk to explore Little Italy off the beaten path and along the Harborwalk.
Walk # 3: the old and new East Boston: a 3 miles self-guided tour with superb views of Downtown Boston, especially at night, and unusual finds.
Walk # 4: sculpture, art and architecture at MIT: a two hours walk on the MIT campus then along the river with views of Boston.
Walk # 5: the historic Charlestown: a 90 mn to 3 hours walk to explore the oldest neighborhood of Boston and visit two National Historic Parks.
Walk # 6: Castle Island in South Boston: an easy walk to feel the air of the high sea.
Walk # 7: the Dorchester Bay shores: a 3 miles walk to visit 3 historical museums, walk along the sea and end your day on a beach.
Walk # 8: the trendy Seaport Fort Point District: a 2.5 miles tour in a completely renovated and very busy part of South Boston.
Walk # 9: the Chinatown, Downtown and Financial Districts: 2 miles to explore 3 different parts of Boston Center between little shops and skyscrappers.
Walk # 10: charming Beacon Hill: a 2 to 4 hours walk in one of the prettiest historical neighborhood of Boston with old brick house, gas lamplights and cobbled streets.
Walk # 11: Beacon Hill and surrounding parks: a 3 miles walk to combine open spaces, mainly along the Charles River, and historical places.
Walk # 12: luxurious Back Bay: a 1:30 hours walk to explore the wealth of this part of the city through upscale shops and city mansions.
Walk # 13, shopping and culture in Back Bay: a 2.5 miles walk to satisfy different pleasure in historical sites and trendy boutiques.
Walk # 14, the touristic Waterfront: a 2.5 miles walk to explore 3 different parts of Downtown along old and new piers.
Walk # 15: the gardens of the South End: a 2 hours walk mixing contemporary art, historical neighborhood and nature.
Walk # 16: from Symphony to Brigham Circle: A 2 hours walk (except if you stop at the two largest art museums of the city) through the campus of 5 universities and their galleries.
Walk # 17: from Longwood to West Fenway: 2 hours to explore a part of Boston off the beaten path and see Fenway Park.
Walk # 18: venerable Harvard: a 1h30 to 5h walk (or more depending on what you choose to do) to visit the Harvard campus and its surroundings.
NB: some of these places are described in more details in the Citywalks.space blog.
---
Walk in Boston, the different neighborhoods to visit
---
Walk in Boston, the highlights of the visits
beach ferry gallery history market modernism museum national park noteworthy boats park place of worship public art university waterfront