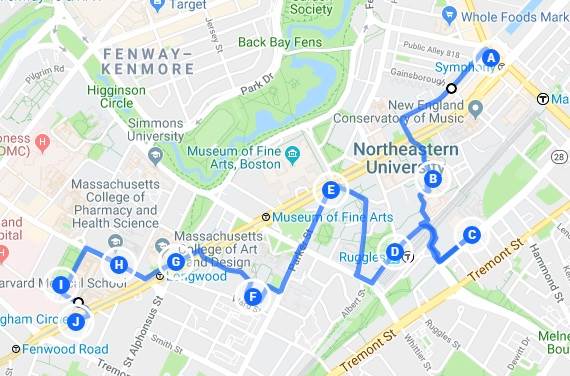 Walk in Boston # 16, from Symphony to Brigham Circle, is a 3 miles self-guided tour in East Fenway then Longwood.
You'll explore the universities, galleries and museums of this part of the city.
It will take you about 2 hours, much more if you decide to do some of the visits suggested on your way.
You'll often be off the beaten path.
Highlights: Northeastern University, Kentzman Quadrangle, Ell Hall, gallery 360, Curry Center, ISEC, Ruggles, Wentworth Institute of Technology, Harvard Medical School, Museum of Fine Art, Isabella Steward Gardner Museum, Quad Lawn, Gordon Hall, Warren Anatomical Museum, Brigham & Women's Hospital.
This walk is not available right now as most of the universities are closed to the public.
The updated descriptions will be added as soon as it is possible.
---