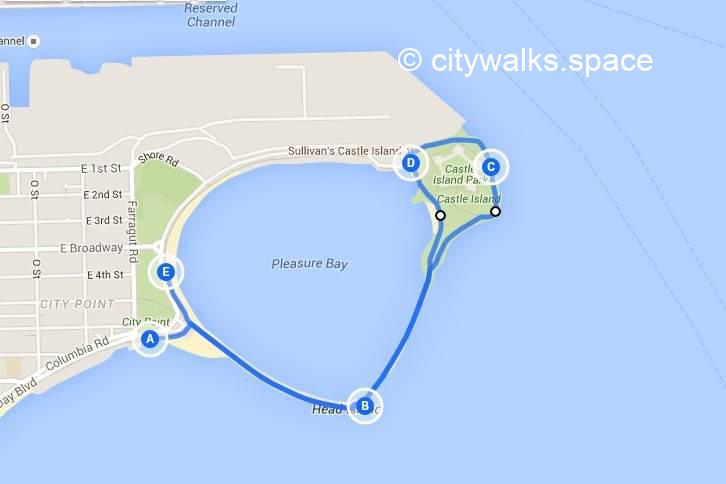 Walk in Boston # 6, Castle Island in South Boston, is a 2 miles self-guided tour that will take you about 1:30 to 4 hours to complete depending on what you chose to do.
You'll feel close to the high sea when still in Boston; you'll also be able to relax on quiet beaches.
NB: the closest T.stop is 2.5 miles away; it will become a 7 miles outdoor trek if you don't have your own means of transportation.
Highlights: Day park, Dorchester Bay, Castle Island park, Fort Independence, Pleasure Bay, City Point beach
T-stop: JFK / Umass, red line (beginning and end).
Car: never a good idea in Boston but on this walk, you could find free parking at Day Park (point A), along the William J. Day Blvd (point E) and at Castle Island Park (point D). Next, find the description that corresponds to where you are, then choose which direction you want to go!
Good to know: there are restrooms in the park near Pleasure Day Park, on the other side of the road, and at Castle Island Park. Places to sit are numerous. For eating, the options are limited, especially off-season, so it might be a picnic outing!
---
---
A: Your walk starts at Pleasure Day Park along Day Blvd, and it is very simple: you are going to follow the jetty in front of you along Dorchester Bay and all the way to Castle Island Park.
It means Castle Island is not an island anymore! It was one in the 1630's when the first fortress was built.
What makes the walk interesting is that it is a long jetty, and it gradually takes you off the coast.
B: The round structure called the "Sugar Bowl" you'll find after a while is a good point to sit and take pictures. It will surely be windy; you'll see cormorants and the Boston Harbor Islands in front of you; you'll also hear the sound of the navigation buoys' bells. It will look like you are on the high seas, and you came for this feeling.
For the rest, the scenery and the pier will remain the same until Castle Island Park.
C: Once at the park, you'll realize you cannot easily enter Fort Independance. However, guided tours are offered between noon and 3pm on Saturday and Sunday in season; free self guided tours are available 3 months a year on Thursday evening between 7pm and dusk, weather permitted. If you are interested, you'll find the exact schedule on the web.
You came for something else anyway: the strategic location of the place puts you in the middle of the harbor buzz. This is what makes its charm; in addition to the sights of all kinds of people who walk, sunbathe, fish, or dream in front of the sea.
The waves are noisier, boats of all kinds cruise off the coast, you rub shoulders with a commercial harbor and its mountains of various containers; in the distance, planes come and go at Logan airport. That's all there is to see, but it's exotic enough to be worth it.
D: If you go around the Fort, you'll see an ice-cream and seafood platters stand at the entrance near the parking lot. Horse-riding rangers will perhaps pose for the photo; a bit further, there will be a children's playground area, and a small beach.
You now have to decide how you want to come back to your starting point: if you like looping trails, take the sidewalk or the beach along Bay Blvd. Otherwise, retrace your steps on the jetty, and breathe the sea air and spray again (that's what the map shows you).
E: The beach along Day Bvld opens to a very quiet and protected body of water called Pleasure Bay. It makes a perfect spot to let your children go and bath without fearing a wave will grab them. On the other side of the road, next to Pleasure Day Park, a park with a big playground area could interest them too.
Otherwise, go to City Point Beach next to Pleasure Day Park. It's also a quiet beach that extend the Carson Beach described in the Walk on Boston # 7, the Dorchester Bay shores.
It has a different view to the Dorchester Bay, though, but the general comments about the sand and the water are still the same: you're not in Florida, but if you want to spend a day at the beach when still in Boston, it's an interesting option.
If you want to walk more, or if you walked there from the subway station, all the buildings along Day Boulevard, on the beach side, are historical: there are two yachts clubs, and two bathhouses (not open to the public anymore, it seems).
It will give you a good idea of what the place was at one point in time. You can even see people bowling in a grassy triangle near Pleasure Day Park; if you eavesdrop on their conversation and brawls, it could be exactly what you needed to understand the special character of South Boston.
You could also read South Boston, then and now, and you'd learn even more about the place.
Before you go, don't forget your guide and see how to thank him at the bottom of the page. Then enjoy the rest of your day!
---