Other outings, a guide for architecture, arts, music, views not to be missed in and around Boston, especially if you have a car to expand your discoveries.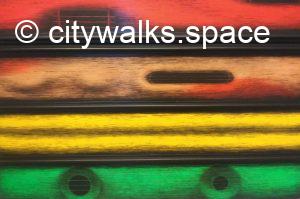 Other outings, it's indeed sometimes in Boston and often beyond Boston, but not further than 1 hour drive.
Other outings, it's a guide that complete your discovery of Boston and its surroundings.
NB1: There's a post with more details for most of these places in the Citywalks.space blog.
NB2: I add address on this page when I find them; come back regularly to see what's new.
Architecture & Art
Addison Gallery of American Art: in Andover, more like a small museum than a gallery. It's located at the prestigious Phillips Academy. It's also free, with unique exhibitions geared to the education of students and the general public.
deCordova Sculpture Park & ​​Museum: in Lincoln, a place not to be missed if you like sculpture and contemporary photography. It will also give you the opportunity to see, on your way, superb classic or contemporary houses in very bucolic settings. The visit to the park and the museum will take you about two hours.
Fruitland Museum: in Harvard, a small village 45 minutes west of Boston. You'll have splendid views of the mountains toward the west and you'll be able to visit 4 buildings of what was a Transcendentalist colony during the 19th century, vying for self-reliance: the farm, a Shaker Museum, an Art Museum with Hudson River School paintings and an American Indian Museum.
Gropius House & Museum: in Lincoln. Gropius, founder of the Bauhaus School of Architecture, taught for a long time at Harvard University after fleeing Nazi Germany. The house he built, revolutionary at the time, is a model of minimalism; it still influences contemporary architecture. There's an entrance fee, but the guides are very competent.
Mt Auburn Cemetery: in Cambridge, it is the first landscaped cemetery in the country, built in 1831. You will find a sphinx, chapels inspired by the Middle-Age and a tower with unique views of Boston. You can easily spend one or two hours exploring its paths and avenues, looking at its various tombs. It is also a good place to watch birds.
Museum of Printing: in Haverhill. Open on Saturdays only, at about 45 minutes of Boston. This museum is a must-see if you like everything related to printmaking. It tells the history of graphics arts with equipment and demonstrations by professionals.
Rose Art Museum: in Waltham, the Contemporary Art Museum of Brandeis University; free and at least as interesting as the Institute of Contemporary Art in South Boston.
Music
Big Night Live: in Boston, a nightclub / concert hall that can accommodate up to 1,200 people in a chic industrial setting, just at the entrance to North Station. Since its opening in October 2019, it has become one of the places where the best DJs of the moment perform for prices that remain reasonable, except for drinks.
Brighton Music Hall: in Allston, a place small enough to go and listen to musicians that won't be far from you; big enough to attract national and international talents. All of it for very reasonable prices.
House of Blues: in Boston, a performance hall that can accommodate at least 2000 people on 3 levels with one of the best rock, blues and electro programming in the city. It is just opposite Fenway Park after having been in Harvard Square for a long time. Its concept was born in Cambridge, MA, but since, House of Blues has popped-up in 11 other cities in the USA. One of its founders also created the Hard rock Café. Another is a member of Aerosmith. A box with mud from the Mississippi Delta is hidden under each scene in each venue!
Scullers Jazz Club: in Allston, along Soldiers Fields Road and in the Hilton DoubleTreeSuite; an intimate and famous venue where you'll listen to the best names in international jazz. You'll be sitting at small tables of 4, surrounded by an audience of connoisseurs.
Wally's: in Boston, one of the oldest jazz club in the USA, founded in 1947. It often hosts students from the prestigious Berklee School of Music or the equally prestigious New England Conservatory during jam sessions from 6pm to 9pm. Then jazz, blues or funk bands take over from 9:30 pm to 2 am, 365 days a year. The place is intimist, the ambiance guaranteed, the drinks at reasonable prices. There's no entrance fee.
History
Minute Man National Historical Park: in Lincoln and Concord, this national park commemorates the first battles of the Revolution. It offers videos and exhibitions in its visitor center but also a 5 miles trail that will take you through the midst of what was the battlefields of April 19, 1775. You will see key buildings of the time with , in season, actors replaying the battle. Explanatory signs along the way will also show you what life was like in the 18th century. This will be an opportunity to discover the Massachusetts countryside just 30 minutes from Boston if the traffic is fluid and take a good lesson in history.
Royall House and Slave Quarters: in Medford, this Colonial style manor and the slave quarters, the only structures of this kind still visible in the USA, are what's left of the Royall family that lived there in the 18th century. You'll learn how wealth and bondage were linked at that time.