Walk in Boston # 15, the gardens of the South End, is a 3 miles self-guided tour to discover the South End, its Victorian-style houses, its art galleries and its countless public parks and communal gardens. At point F, you can add about 1/2 mile each way to visit Underground at Ink Block and Channel Park, big murals painted under the Highway 93 bridges. The place is very noisy but surprising.
The walk will take you about 2 hours to complete, more if you go and see the murals. You'll walk through historic streets, discover an European style cathedral, visit artists' studios and get an idea of what the locals are growing in their small gardens.
Highlights: the New England Conservatory, rows of historic 5-storey red brick buildings, sidewalks with uneven surfaces, St Croix Cathedral,  contemporary art galleries, Underground at Ink Block, Channel Park, Cyclorama, parks and gardens.
T.stops: Symphony (start) and Mass Ave or Symphony (end), green line.
Car: never a good idea in Boston but if you insist, you could perhaps find a spot along the boulevards of the area (2 hours maxi). Otherwise, use a parking app to reserve a place near the New England Conservatory. You'll then at the point B of this walk.
Good to know: you'll find toilets in the New England Conservatory, the Holy Cross Cathedral, the art galleries and the Cyclorama; places to sit in the parks. For dining, Harrison St and Tremont St are renowned for their restaurants, but you will find cheaper options near your starting point.
---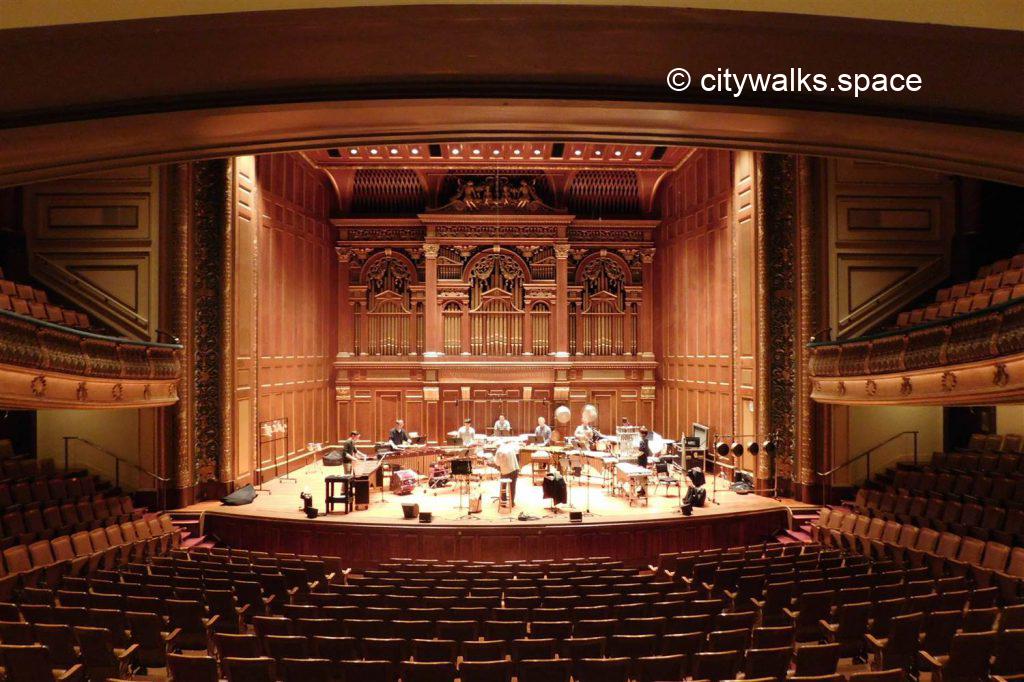 A: Like for Walk in Boston # 16, from Symphony to Brigham Circle, this walk starts at the Symphony T.stop but this time, you'll go east.
Take Huntington Ave to reach Gainsborough St on your left.
B: You'll find your first stop there, Jordan Hall.
It's a perfect acoustic concert hall, listed as a historic monument. Ask the guards at the entrance if you can go and visit it. With a little bit of luck, you may even hear Conservatory students rehearsing on stage.
Next, continue on Gainsborough St. and take a pedestrian bridge over the railroad to enter the South End. You'll soon see a communal garden. It's going to be the first of a long list as the South End is known, among other things, for its gardens and its parks.
Turn left into this park and once on Northampton St, turn right to get to Columbus Ave.
You'll be in front of Darryl's Corner, a restaurant and jazz place. A little further, at the corner of Columbus and Mass Ave, you'll find Wally's Cafe at # 427, another jazz club. It is a tiny one but always crowded, welcoming students and locals for intimate concerts during the evenings.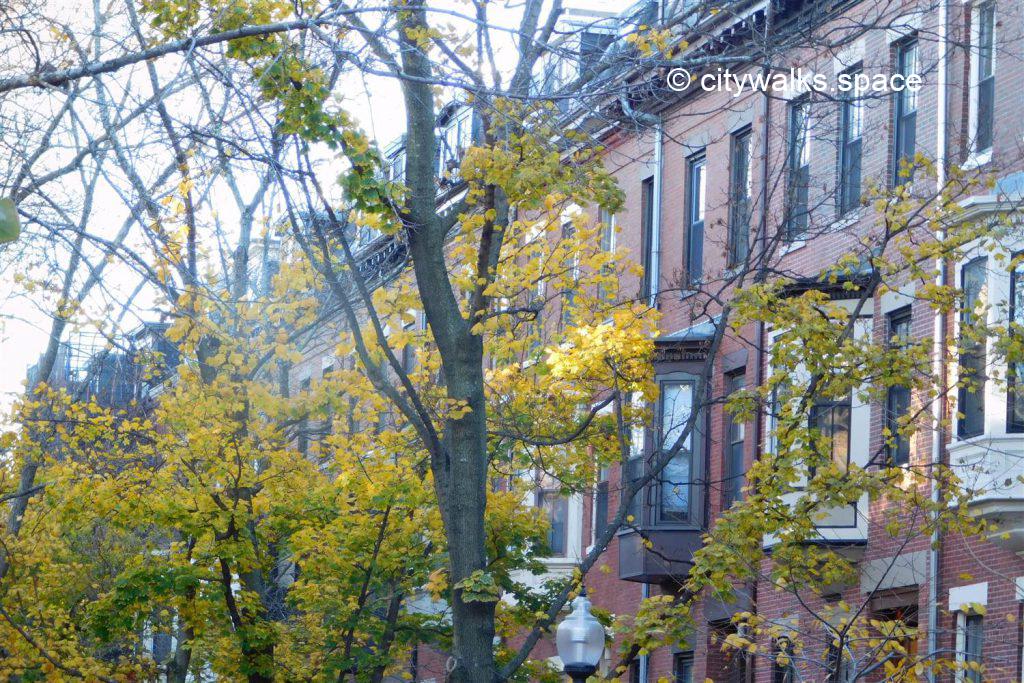 C: Continue on Columbus Ave to East Springfield St.; take it on your right.
You can then take the first alley on your left, Alley 516, to reach Worcester St., a similar street where you'll turn right to see other gardens, on Ruthland St. for example.
You are now in the historical part of the South End with rows of Victorian houses and brick pavements raised by roots of trees.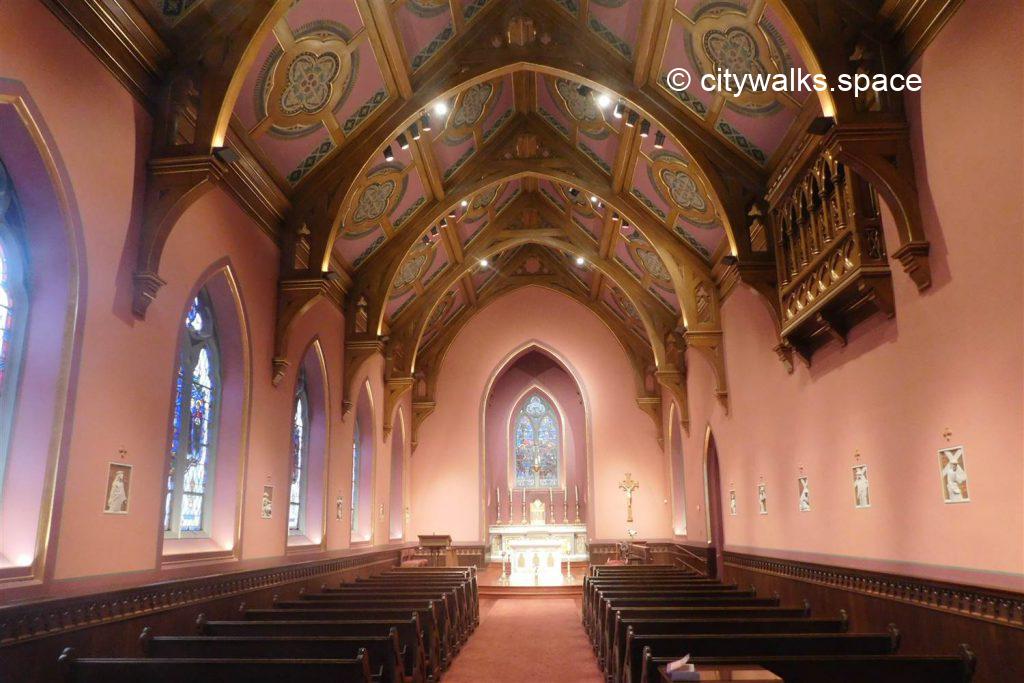 D: From there, several choices to reach the Cathedral of the Holy Cross, your next stop. The route indicated on the map is one possibility among many others as all the small streets of the district have their own charm.
This cathedral, the largest catholic cathedral in New England, could be coming directly from Europe. Its imposing interior gives way to more intimate chapels at its far end, including the one on the left with its warm and attractive light.
After exploring the place, take Union Park St. on your right to go to Harrison Ave.
E: You are now in the SOWA, for "South Of Washington Ave" district, a set of old pianos, shoes and canning factories transformed into residential buildings in the 2000s. It's known for its restaurants and galleries.
At Thayer St, on your right, you will find a way to these galleries and many artists' studios. Every Sunday in season, there's a fruits and vegetables market and another one dedicated to arts and crafts.
F: When Harrison St. joins East Berkeley St., turn left to Shawmut Ave. Once there, you'll see another garden facing you. Turn right in front of it to find Milford St. on your left; then reach Tremont St.
As an option and not on the map but easy to find, once at East Berkeley St., turn right to get to Albany St. Then turn left and once at the next block, cross Albany Street to find Underground at Ink Block, then Channel Park and their big and colorful murals. Then come back following the same way to get to the walk indicated on the map.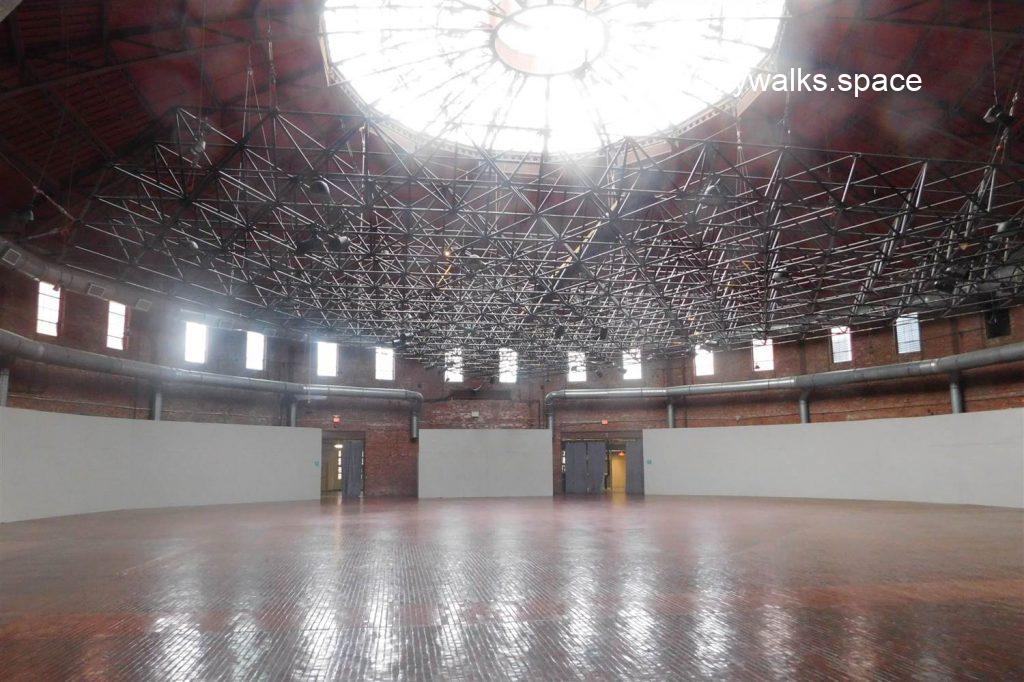 G: In front of you, the Cyclorama, a building now run by the Boston Art Center. Originally, it was a place where you could admire a cyclorama from the Battle of Gettysburg. It was later converted into a carousel; a cycling track; a boxing room; then an industrial area.
Go and see its dome, one of the biggest in the country; imagine what it has seen over the years.
H: Get out on Tremont St.; depending on your preferences, stay on this avenue or take a series of small streets as indicated on the map to go to Warren Ave.
From there, find Rutlang Sq, a street cut in the middle by a minuscule park carefully maintained and decorated by a local association. It is lined with rows of red brick houses, themselves well decorated in any season. It's the reason why you took this detour.
I: Stay on Rutlang Sq, direction Symphony, until you get to a the pathway interspersed with flower beds.
Take it on your left to reach Mass Ave and the T.stop of the same name. Push a little further and you'll come back to your starting point, point A.
From there, you'll be able to find the start of Walk in Boston # 16.
To know more about the neighborhood and how it changed along the years, you can now read Boston's South End, the clash of ideas in an historic naighborhood.
But before you go, don't forget your guide and see how to thank him at the bottom of the page. Then enjoy the rest of your day!