Walk in Boston #14, the touristic Waterfront, is a 2.5 miles self-guided tour to explore 3 different parts of Downtown.
Shopping, sightseeing and strolling are on the program: you'll sometimes be along the water, sometimes on the Greenway, sometimes in the Financial District. You'll go twice through Quincy Market and Faneuil Hall.
Highlights: Quincy Market, Faneuil Hall, New England Aquarium, Christopher Columbus park, BosTix booth, the Greenway, the Harborwalk, Tea Party museum, BSA space, International Place building, Custom House tower, the Great Hall.
T-stop: Government Center, green line (start and end).
Car: never a good idea in Boston, especially in this part of the city, but if you insist, use a parking app to find something along the walk. Prices will vary depending on the days and times.
Good to Know: there are public restrooms at Faneuil Hall (in the basement), next to the Great Hall (second floor), at Quincy Market (in the basement), and at the BSA space. Free wi-fi on City Hall Plaza and the Greenway. Benches or tables and chairs in many different places along the Waterfront and the Greenway.
---
---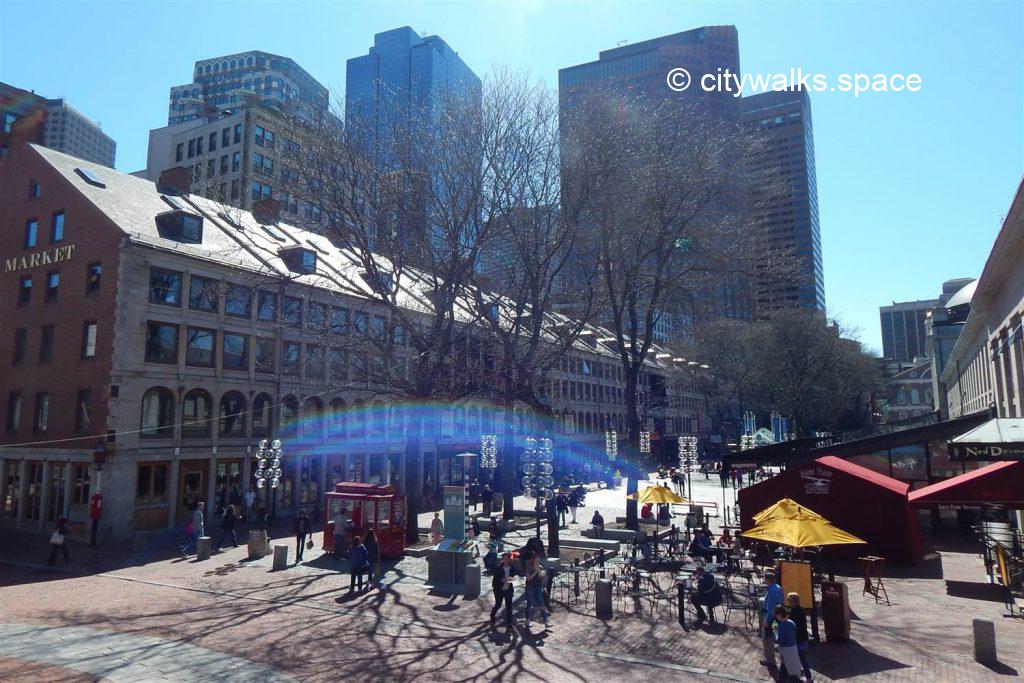 A: Your walk starts at City Hall Plaza, like Walk in Boston # 2, the other North End. This time you are going to take the stair on the right of City Hall.
You'll see Faneuil Hall in front of you, below, and most likely, street performers in front of it. On its right, a BosTix booth where you can buy performances tickets for half-price the day of the show, or go and pick-up the ones you've bought online.
Faneuil Hall has been a marketplace since 1743, and is now part of a National Historical Park.
Enter the building to admire it; there, find a kiosk staffed by the Park Services and get information about all of the other National Parks in and around Boston; go and buy stamps for your postcards to a small post office; shop for typical souvenirs of the city.
B: However, wait until you load yourselves with stuff: you'll come back to Faneuil Hall at the end of this trek as there is another part of it to explore.
Right now, you're heading to Quincy Market, the next historical building you'll find once you step outside of Faneuil Hall.
It has been built in the 1800's when Faneuil Hall run out of space to host all the vendors willing to sell food there.
Today, the trading tradition is kept alive with food-stalls of all kinds under its roof, and tables and benches in its center, under the dome. On each side, gift stalls under glass enclosures.
The other buildings, North Market and South Market, host restaurants, specialty shops, and office space. More street performers will entertain you on the plaza in front of Quincy Hall, or in the cobblestones streets around it.
C: You can easily spend one hour in the Faneuil Hall/Quincy market area, but once you are done, head east toward the Christopher Columbus Waterfront Park.
You'll find a carrousel on your way, made of animals typical of New England. There will also be an information booth about the Boston Harbor Islands National Park, then grass, benches and views of sailing boats and yachts.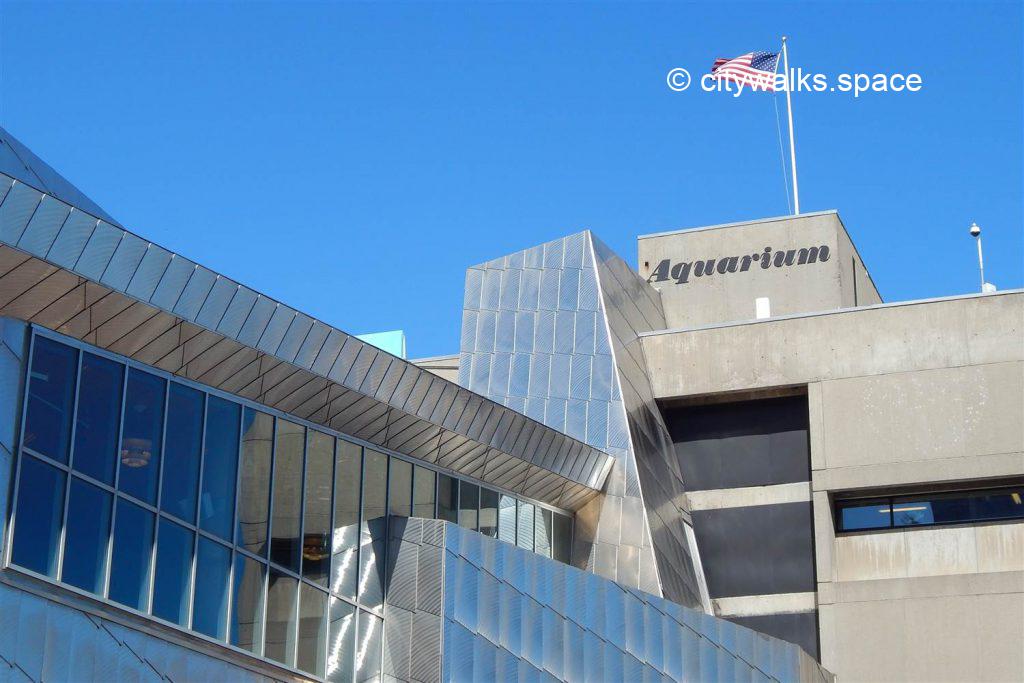 D: Next, follow the Harborwalk toward the New England Aquarium.
You'll pass piers where ferries could bring you either to other cities along the Boston Bay, to the airport, or to the Harbor Islands.
For now anyway, stay on land and go and see the seals next to the tickets booth, on the left. It's unlikely that you'll ever see seals again so close!
On the right of the Aquarium, you'll find plenty of tables and benches if you need some. Otherwise, keep walking, except if you want to visit this Aquarium. It will take you at least another hour.
Next, you'll be in a more residential part of the waterfront, with some public art and luxury apartments on piers facing the sea.
E: Once you reach the Boston Harbor Hotel, go under its arch to reach the Greenway.
Follow it on you left amid trees, flowers beds, and temporary art installations. You'll be surrounded by the skyscrapers of the Financial District on your right, and office spaces on your left.
F: At the next intersection, go left on Seaport Boulevard and go back to the Harborwalk. You could have followed it all along since the Aquarium, but the stretch of the Greenway you just took is a pleasant one, so why pass it?
You now reach the Intercontinental Hotel with its impressive blue glass façade, and some interesting public art on each side of its entrance.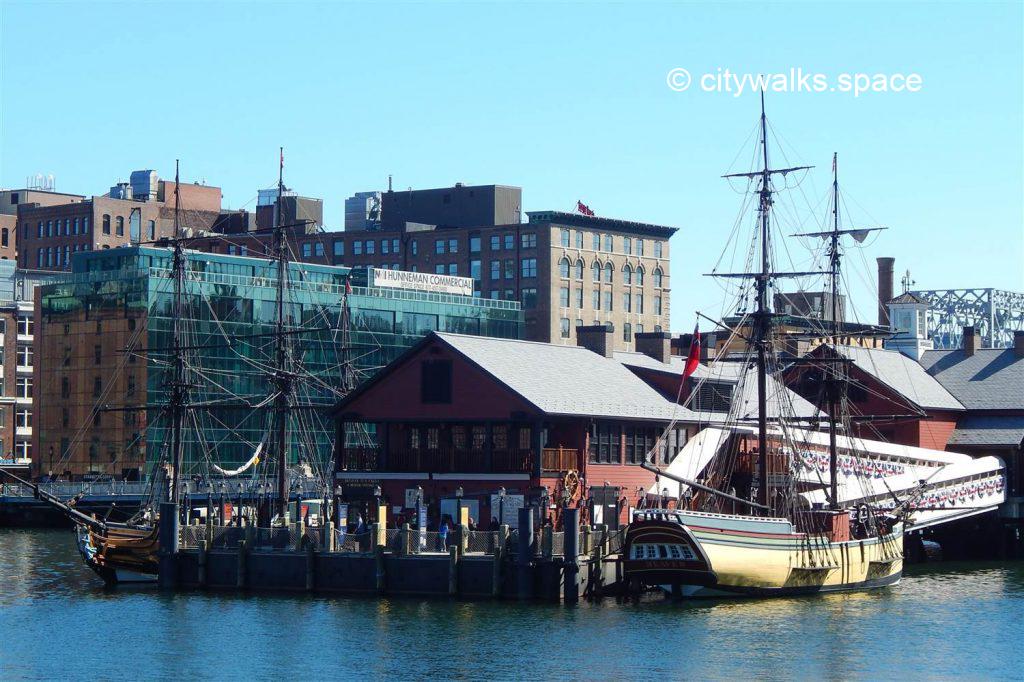 On the other side, across the channel, you'll see the Boston Tea Party Ship and Museum.
If you come at the right time, you'll even see people re-enacting the throwing of the tea shipment unto the water. If you want to do it yourself, the museum is just a few yards away. It will enlighten you a lot about the beginning of the American Revolution, but count another hour to visit it.
On the pier where you are, you also stand where the Great Boston Fire of 1872 started, destroying nearly all the Financial district and part of downtown Boston. A panel will tell you what happened here with images and details about the event.
G: Once you are done reading it, find Pearl St. and the Boston Society of Architects (BSA). Both will be on your right.
At the BSA space, on two floors open to the public, you'll discover what design and contemporary architecture mean. The models of projects crafted by the most famous architects in the world will make you travel to far away places, and marvel at what creativity can do.
After your visit, keep going on Pearl St. until you reach the Greenway, and take it on your right.
You'll again walk between sculptures, lawns, trees and beds of flowers.
H: Once you reach Oliver St., take it on you left. You are now in the Financial District, and you'll understand why if you come during a weekday.
For an even better experience of it, enter the International Place building on the corner of Oliver and High St.
It's the 7th tallest skyscraper of the city, but you won't be able to access the 46th floor, nor the others, if you do not have a pass. You'll however find a central glass dome there, with a winter garden and a rain fountain, surrounded by shops, restaurants and a café area.
There are tables and chairs under the dome, around the fountain, but will you dare sit there amid the business men and women having tea and looking at numbers on computers, it's up to you .
The building itself is remarkable, both inside and outside. Made of marble and granite imported from Europe and Africa, it mixes unique architectural details with classical lighting fixtures. A small pyramid tops it, illuminated at night.
From the central garden, go through a circular and impressive hallway, and exit on High St.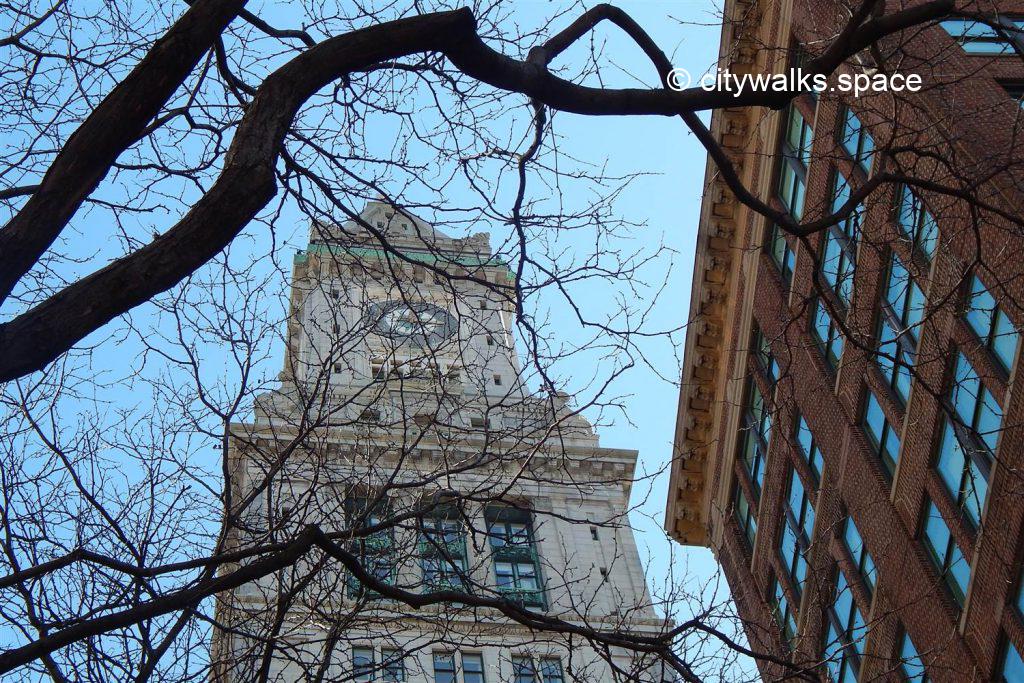 I: You'll find the Greenway in front of you again, and you'll take it on your left.
This section is a more open space with gathering places. Its main attraction is a giant ring fountain with pulsating shoots of water going in the air at different intervals, surrounded by temporary exhibitions. The fountain is working from May to October only and very popular during hot summer days!
Once you see Central St., go left to have a look at the Custom House building, now an hotel and an Historical Place.
Built in 1837 in a neoclassical design, its tower is the most recognizable part of the building, the part that you've already seen countless of time during your treks but never approached. It has been added in 1915 when ships were so numerous that the original structure was becoming too small to accommodate all the requests for customs paperwork.
To visit it, inquire beforehand for days and hours, they can vary.
J: In any case and next, take Commercial St. to go back to Quincy Market/ Faneuil Hall.
You are now going to visit the Great Hall, an historical place on the second floor of Faneuil Hall. You access it through doors facing Quincy market. Many famous speeches have been made between these walls by very famous politicians, and new citizens emerge through it every week after their "Oath of Allegiance" ceremony.
It seems to be a good ending to this walk, does it not?
Except if you now want to take Walk in Boston # 2, the other North End. It starts a little further up but you can rejoin it by going right on Congress St.
You could also take Walk in Boston # 1, the forgotten West End, it ends here so you'll do it in reverse.
Otherwise, to know more about some specific places of Boston, see the blog on Citywalks.space.
But before you go, don't forget your guide and see how to thank him at the bottom of the page. Then enjoy the rest of your day!
---